Before:
I had a laptop sitting around collecting dust. As far as I'm concerned, all machines should pull their own weight. Don't you agree? I desperately needed to give this old HP something to do! What you ask? I turned it into a media box for my TV.
After:
Now the computer stays plugged into my TV. I can use it to play DVD's, CD's, Pandora, Netflix and pretty much anything else you can think of. To top it off, I control it all with my iPhone!
Difficulty:
Moderate
What I used:
HP DV2700 laptop with 3GB of RAM, Windows Vista, and VGA output
WiFi connection
iPhone 3GS
Emerson 42" LCD TV with VGA input (model LTDN42V68US)
VGA Cable
5.1 Surround Sound Speaker System
1/8" to RCA audio cable
Boxee Software (FREE)
Boxee iPhone App (FREE)
Targus Cooling Pad
You can use:
Mac, PC, or Ubuntu Linux with at least 512MB of RAM
iPhone
VGA, S-Video, or HDMI cable
TV with VGA, S-video, or HDMI input
Speakers
Audio cable (unless you're using HDMI)
Internet connection
Boxee Software (FREE)
Boxee iPhone App (FREE)
Here's how:
Installing the software on your computer:
Step 1:
Turn on computer and connect to the internet.
Step 2:
Click
here
to go to the Boxee download page.
Step 3:
Select your operating system. I chose "Windows PC."
Step 4:
Fill out the signup form and click "Go on."
Step 5:
Click "Download Boxee for (OS)."
Step 6:
Navigate to the location of your Boxee download and click it to start the install.
Step 7:
Click your way through the installation process.
Step 8:
Open Boxee on your computer.
Setting up the hardware:
Step 1:
Connect a VGA, S-Video, or HDMI cable from your computer to your TV.
Step 2:
(If using HDMI skip this step)
Connect a cable from your speaker/tv input to the 1/8" headphone output jack on your laptop. You might need a special cable to do this.
Step 3:
Switch your TV to VGA mode.
Installing the software on your iPhone: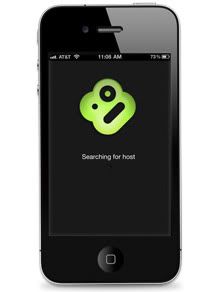 Step 1:
Go to the App Store and search for "boxee remote."
Step 2:
Install boxee remote.
Step 3:
Open boxee remote and click "Search for hosts." You should now be able to control Boxee on your computer by using your iPhone!
Congratulations you're finished!